Surf TV channels on Internet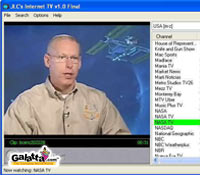 By
Baiju NT [ August 22, 2008 ]
Surf TV channels on Internet
Imagine getting all your favourite TV programmes without a cable connection or a direct-to-home (DTH) satellite dish! This is set to become a reality. Paving the way for consumers to access TV content over broadband, the Union Cabinet on Thursday okayed the policy guidelines for the internet protocol television (IPTV).
IPTV is new cable TV delivery system where an interactive digital TV service is delivered over an Internet connection instead of the traditional way of transmitting through a cable network. It involves delivery of  video and audio signals over a broadband network. It can be also used to deliver not only TV channels, but also other value-added services such as time-shift TV, interactive advertising, film shows without ads and games.
"Issuance of the guidelines will bring clarity on defining the parameters within which the service providers will work and clarify how these services will be regulated," Information and Broadcasting Minister Priyaranjan Dasmunsi said. The Cabinet also gave its approval to amend the policy guidelines for downlinking of TV channels to allow broadcasters to provide content to IPTV service providers.
The Cabinet decision made it clear that IPTV providers would get channels from broadcasters as per broadcasters' rates fixed by Telecom Regulatory Authority of India (TRAI).
The decision to amend the laws will benefit key telecom players in the country. However, Internet service providers whose net worth is more than Rs. 100 crore will also be able to offer the services. State-run Mahanagar Telephone Nigam Ltd (MTNL) and Bharat Sanchar Nigam Ltd (BSNL) already provide IPTV in select cities, whereas Bharati Airtel and Reliance would offer their services soon. Reliance ADAG is already in the process of testing its IPTV product in a few thousand household in the metros.