Indian movies popular in Russia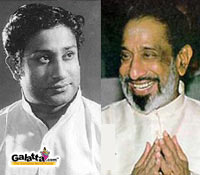 By
K.V. Vasudevan [ October 22, 2009 ]
Indian movies popular in Russia
The popularity of Bollywood stalwart Raj Kapoor's Hindi movies is well-known. For his Mera Naam Joker, one of the actor's ambitious project, a stream of Russian girls was included in the circus sequence.
Now†some evergreen Tamil movies, including Pudhiya Paravai, Vasantha Maligai and Saraswathi Sabatham are to be screened in Russia along with a few Tamil mythological movies.†The Indo-Russian Chamber of Commerce and Industries is having talks with the makers of†these movies in this regard.
Famed Production House Kavithalaya is evincing interest to screen some of their movies like†Netri Kann, Muthu and Punnagai Mannan. The dubbed Hindi version of Kamal Haasan-Jyotika starrer Vettaiyadu Vilaiyadu is also likely to figure in the list.
The Russian Film Festival†in Chennai is to be reciprocated by the screening of Indian films in†Moscow.
The Indo-Russian Chamber of Commerce and Industry Secretary P. Thangappan said†a budget tour to Russia for†Indians is planned to†improve†cultural ties between the two countries.