Darshana TV: New Malayalam TV channel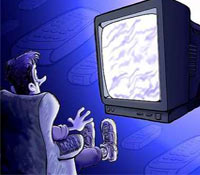 By
Baiju NT [ October 28, 2009 ]
Darshana TV: New Malayalam TV channel
Sathyadhara Communications Private Limited plans to launch a new Malayalam television channel titled 'Darshana TV' by March 2010. Talking to reporters on Monday, its chairman Panakkad Syed Sadiqali Shihab Thangal and managing director Ismail Kunhuhaji said that the channel has applied for registration in the non-news and current affairs category and is expected to get the licence soon.
The channel would focus on knowledge and entertainment keeping within the 'limits of decency,' he said, maintaining that it would not be a religious channel. "We are proposing a channel from Malabar. All other channels in Kerala are based in Thiruvananthapuram or Kochi. Our channel will be based in Kozhikode. We are planning an infotainment channel keeping religious and moral values. Good documentaries will be aired and knowledgeable discussions held. The channel will air historically important films and produce serials," he added.
The Samastha Kerala Sunni Students' Federation (SKSSF), the students' organization of the Samastha Kerala Jamiyyathul Ulama, will be in charge of the programmes. Ismail Kunhu Haji, chairman of the Muscat Sunni Centre, is the proposed managing director of the channel. Siddeeque Faisy Valakkulam, former state vice-president of the SKSSF, is the executive editor.
The primary works of the channel began an year ago. The infrastructure for distribution and other procedures have been completed. A studio complex in Delhi and a three-storey building to construct a studio in Kozhikode have been taken on lease. Land has also been bought at Ramanattukara in Calicut to construct the channel's own studio complex. Apart from Delhi, the channel will also have regional offices in Mumbai and Chennai. It will also have an area office in Dubai to coordinate activities in Gulf countries.