I am not the girl in the MMS clip says Pooja Umashankar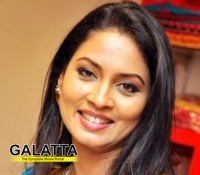 By
Uma [ April 19, 2012 ]
Bangalore based lass Pooja Umashankar who got into trouble six years ago for a sexy MMS clip that was uploaded on internet, is now planning to get out of the mess. The actress has decided to lodge a complaint with the cyber crime division, as the issue is troubling her again.
Pooja made her last appearance in Kollywood in Bala's Naan Kadavul (2009). The actress who is also a popular heroine in Sinhalese films, is quite disturbed as the clip made its way to Sri Lanka recently. Even the local media are troubling the actress by asking her about the clip now.
On being quizzed about the MMS clip, the actress said, "Just because the girl in the MMS clip had a round face and high cheekbones like me, it doesn't mean it is me. I did not pay attention to that issue that time, since my friends and family members stood by me."
"So, I just lodged an informal complaint with the cyber crime police. But, I regret for my mistake now. I should have filed a complaint that time itself." she added.
Talking about filing a case, Pooja said, "I have finally decided to prove my innocence and to take the legal route. The girl in that video is not me."