I am not playing a sex worker in Dirty Picture: Silk Sakkath Maga says...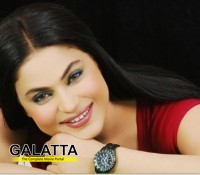 By
Uma [ May 26, 2012 ]
Pakistani actress Veena Malik, who debuts in Sandalwood through the movie Dirty Picture: Silk Sakkath Maga, is excited about her role. Sources state that the actress plays a sex worker in the movie. Earlier, the role was offered to actress Nikita Thukral, but the actress rejected the offer claiming that she is not interested to play the role of a prostitute.
But, Veena rubbished the rumours about playing a prostitute. The actress said the story is based on the life of late sex siren Silk Smitha and is not a movie about a sex worker. She also said that she had read the script completely and was convinced about the film.
She said that she has not watched any films of Silk and will not watch it as well. She also said that if she watches Silk's films, she might be inspired by the late actress' role, and it will reflect in her performance. Veena further added that she only wants to see herself throughout the film.