Happy Birthday Upendra!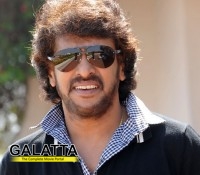 By
Saranya [ September 18, 2013 ]
Upendra, actor, director, producer, screenwriter, lyricist and singer, celebrates his 44th birthday today. The actor started his career as a director with Tharle Nan Maga, later portrayed as a hero and got recognition for his performances. He has directed and starred in several hit films like Om, A, Upendra, Preethse, Raa, Kutumba, Super to name a few. The actor is now busy shooting for his upcoming film Brahma and has singed few other films. He has also launched the sequel of his hit film Upendra, under his home banner today. Interestingly, his production house was launched on his birthday last year, by his wife Priyanka Trivedi. He got married to lady love Priyanka whom he met on the sets of H2O, the couple got married in 2003 and now have two kids.
We wish Upendra a very happy birthday!