Katrina's belly dancing moves: Mashallah!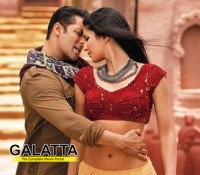 By
Meera Kukreja [ July 15, 2012 ]
From her item numbers 'Sheila Ki Jawaani' and 'Chikni Chameli', Katrina is setting the screen ablaze with her belly dancing moves in 'MashAllah' from Ek Tha Tiger.
'Mashallah' song is an Arabic song and is shot in the streets of Istanbul. The songs stars with agent Tiger (Salman Khan) following a mystery women who is wearing a veil. After some seconds, Tiger pulls the women's veil from her face and the women is non other than Katrina Kaif. She starts to mesmerize everyone with her dance moves. The whole song is based on Salman Khan wooing her.
The actress has reportedly learnt a new form of belly dancing for this track. A source from the unit says, "The song is the most integral part of the film where Salman is praising Katrina. He feels that she is extremely beautiful and that's why the song is called MashAllah. When the song was discussed, Katrina was shooting on the borders of Turkey and Iraq and that's when she decided to learn the belly dance form." Katrina gave her inputs on how she wanted to be presented in this song. There are about 5 costume changes in the song and Kat decided each of these looks, says a source.
The Song MashAllah has been launched and is now shown on television. Ek Tha Tiger will release on 15th August 2012 through Yash Raj Films. The movie is an upcoming spy thriller.