Kapoors celebrate Diwali together!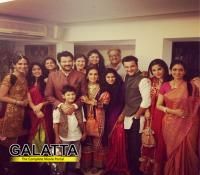 By
Saranya [ November 05, 2013 ]
Diwali, festival of lights is always a special festival in B'town. Festivals are not only greeting friends, eating sweets, it is also special day to spend out entire day with family. Likewise Bollywood top families have also celebrated their Diwali in a different way, one such family we bring in is our Kapoor, who had celebrated this festival together, despite their rifts and differences. Anil Kapoor with his wife and daughters Sonam Kapoor, Rhea Kapoor, Boney Kapoor with his wife Sridevi and daughter Jhanvi and Khushi, Sanjay Kapoor with his wife Maheep Sandhu and his kids, celebrated this Diwali together at Anil Kapoor's residence. The entire family looked stunning wearing traditional Indian outfits and having a blast together. Sonam Kapoor tweeted the same the in her social net working site and also shared few pictures of that most memorable moment.