Deepika feels comfortable working with Ranbir!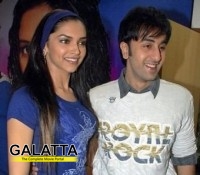 By
Meera Kukreja [ May 16, 2013 ]
Deepika Padukone and Ranbir Kapoor's sizzling promos for their upcoming film, Yeh Jawani Hai Deewani has been creating a big buzz.
The actress opens up, on how it was shooting with her ex-flame and says that, she still has the comfort level with the actor. Be it intimate, romantic, angry or action scenes, the actress says that the two are very comfortable working with each other.
Deepika says, that both of them get into the character of the film and do the scene without having the thought of working with one's ex-flame. "In Yeh Jawaani Hai Deewani, Ranbir is there as Bunny and I am there as Naina Talwar. Ayan is our common friend and if he would have thought that we will be uncomfortable he would have not got us into the film," added the actress.
Talking about Ranbir as a person, Deepika says that though Ranbir is brought up in a big famous family, he has had a very normal upbringing and is a very normal person. She credits their parents for not treating them as any other stars kids.
Yeh Jawaani Hai Deewani, directed by Ayan Mukerji and Produced by Karan Johar is set to release on May 31, 2013.