Anushka likes to get awards only for her parents' happiness!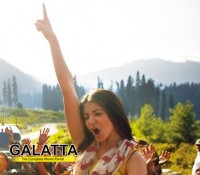 By
Meera Kukreja [ January 30, 2013 ]
Having won the Best Actor for the comedy/ romance in the film Jab Tak Hai Jaan, actress Anushka Sharma says she has a hassle delivering speeches.
Not wondering what to say while receiving awards, Anushka says that its best they don't give her an award, as she doesn't really know what to say. However, she reveals that her parents are the most happiest, when she gets awards. The only reason why she loves receiving awards is only for her parents.
In the late Yash Chopra's last directorial Jab Tak Hai Jaan, Anushka plays a very hard working and ambitious girl, Akira Rai, opposite co-stars Shah Rukh Khan and Katrina Kaif.