No more calling Robert Pattinson 'R-Patz'!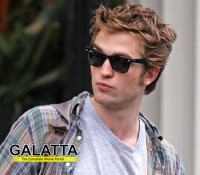 By
Meera Kukreja [ October 26, 2012 ]
Robert Pattinson was spotted in a grumpy mood at the airport, leaving for Australia, for his final Twilight film's promotion.
With his wax statue being revealed recently, the Twilight fame actor, Robert Pattinson as always been referred to as R-Patz.
Known with this nickname for years, the actor confesses how much he hates being called that way. He says he would break the hands and mouth of the person who founded this name.
He also doesn't like the way people pick to be either Team Jacob or Team Edward.
Any one to suggest a new nickname for the actor?!