Kim Kardashian goes semi-nude on Twitter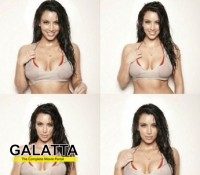 By
[ June 01, 2012 ]
American socialite, model and actress Kim Kardashian has tweeted a ultra sexy semi-nude photo of her, to her 15 million followers. The 31-year-old star looks totally in the photograph. She poses smiling sporting wet hot hair.
Kim tweeted, "Thanks to all you 2million sexy beasts out there for following me on Instagram! So heres a little present."
She posted a set of four snaps, wearing only a red bikini under a sticky, transparent, wet tops, which exposes her body's fine curves. It seems she clicked it just after returning from the beach.
Artists