Angelina's pregnancy notes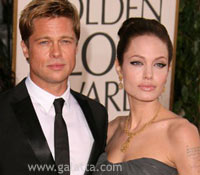 By
Kaanchan [ July 04, 2008 ]
Angelina's pregnancy notes
Pregnancy is quite an emotional roller-coaster for the moms-to-be, and Angelina Jolie does not want to forget the ride; hence she keeps a diary!
Angelina Jolie who is pregnant with twins [the secret delivery news is yet to be confirmed] for her super hot blonde husband Brad Pitt, has been keeping a diary to chronicle her feelings, thoughts and emotions throughout the pregnancy. The diary is so personal that even Brad has not been allowed a glimpse into its contents! A close friend to Angelina says that the diary carries detailed descriptions of Angelina's emotional state and that includes any pent up anger at her husband!
This diary has all the makings of a book that could notch up some fat green bills... Publishers, are you listening?
For Celebrity and Movie Photo Galleries, CLICK HERE!